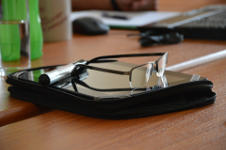 Expat Expert Course
Expat Expert Course
A short course designed to bring you up to speed on the Vanuatu scene... especially providing background to assist with making the decision to invest in this vibrant Pacific country and its happy people.
10 Tourism in Vanuatu
Vanuatu has become the new hub for Pacific Tourism. In part, tourism in Vanuatu has seen a rise since it became a site for the successful reality TV show, Survivor. Survivor season 9 was filmed on Vanuatu and titled "Survivor Vanuatu: Islands of Fire". Australia's Celebrity Survivor was also filmed at the same location used by the U.S. version. Since 2002, the Vanuatu government has stepped up its efforts to boost tourism.
Vanuatu has something for everyone. For those that want a relaxing and luxurious escape with balmy breezes and gourmet food, you will find it on Vanuatu. And for the adventure seekers it is home to some of the world's best eco tours.
The first settlers arrived approximately 3,500 years ago, from New Guinea and the Solomon Islands. Vanuatu was first sighted by Europeans in 1604 by Pedro Fernandes de Queiros of Portugal but it was not revisited until 1774 when the navigator James Cook charted the islands. The French and British both laid claim to the islands, which led to the formation of a condominium government in 1904. The islands began lobbying for independence after World War II and obtained it in 1980. Much of the traditional Vanuatu culture remains unchanged today.
When you are in Vanuatu you can immerse yourself in the island culture. Tour companies fully owned and operated by the local Ni-Vanuatu offer a peek into an ancient culture still being lived out today. You will witness cultural ceremonies and watch dancers perform traditional dances that are unique to their island; visit ancient village set ups demonstrating the old way of life, and take tours of rural village communities. For the culture and history buff Vanuatu offers the chance to step back in time and experience life as it once was.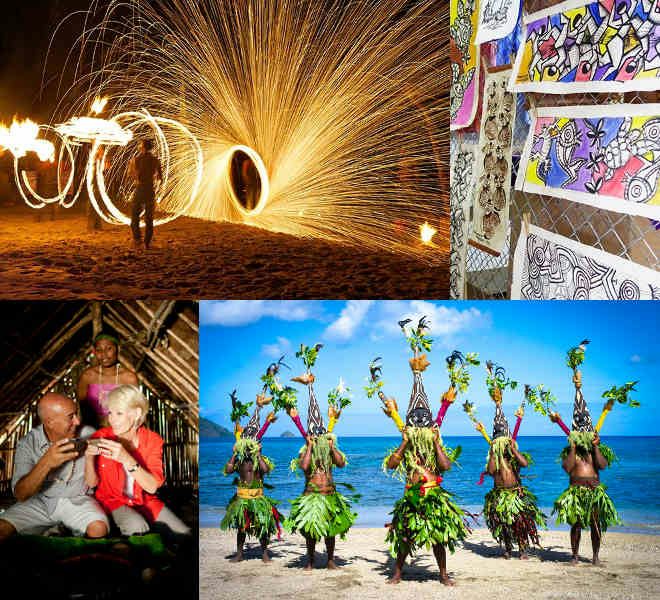 Vanuatu has also become known for its eco tours. On an Eco tour you will experience Vanuatu life off the beaten track, explore flora and fauna in its natural environment, learn about the islands' history and meet the locals. There are a wide variety of Eco tours available, from a relaxing walk through the bush to plunging through the jungle. Eco tours offer you a way to see places and people that are not normally accessible to the general public.
For the adventure bound tourist the islands offer some of the most breath-taking natural sights in the South Pacific. The volcanoes of the Vanuatu Islands attract a large number of hikers; the most famous being the Yasur Volcano, located on Tanna Island. It is one of the world's most active volcanos and has been erupting 10 to 20 times per hour, every day, for at least 800 years. In spite of this, it is very easy to reach and you can walk around the entire perimeter. You will never forget the experience of feeling the earth shudder beneath you, watching the molten magma, rock and ash shoot out of the earth, and hearing the thunderous groans coming from deep within the volcano.
Tanna, the movie
Recently, in late 2015, a movie made by two Australian movie producers has reached unexpected heights. The now acclaimed movie makers won best film in their category at the prestigious Canne Film Festival.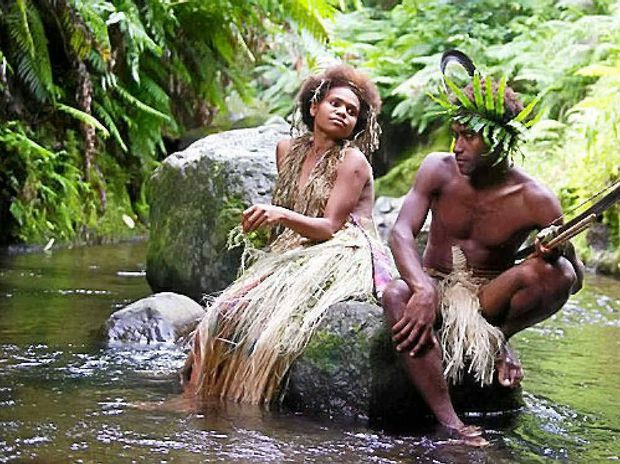 It's a "Romeo and Juliet" themed love story set around the island of Tanna and living in the shadow of the Volcano, and is a great promotional vehicle for Vanuatu,. The world has a thirst for looking back in time and in Vanuatu you can visit a village and experience life as they lived it 2,000 years ago.
____________
Tanna is set in the South Pacific where Wawa, a young girl from one of the last traditional tribes, falls in love with her chief's grandson, Dain. When an inter-tribal war escalates, Wawa is unknowingly betrothed as part of a peace deal. The young lovers run away, but are pursued by enemy warriors intent on killing them. They must choose between their hearts and the future of the tribe, while the villagers must wrestle with preserving their traditional culture and adapting it to the increasing outside demands for individual freedom. Tanna is based on a true story and performed by the people of Yakel in Vanuatu.
_______________
All of these points, along with the upgrading of the international airports, will take our 120,000 air visitor arrivals in 2016 to an expected 300,000 by the end of 2018, plus a cruise ship with 2,000+ passengers arriving each day-and-a-half at the two new international upgraded Cruise ship terminals.  This is a new level of tourist activity, with plenty of opportunities for new residents.
The natural beauty of Vanuatu is only matched by the friendliness of the people!
Vanuatu is also a mecca for scuba divers and snorkelers. Divers come from all over the world for Vanuatu's superb underwater visibility, warm water and world-class dive sites. Plunging cliffs, grottos, overhangs, huge caves and intricate tunnels all make the underwater exploration an exciting experience and a sight to remember. The true draw for divers to Vanuatu is the SS "President Coolidge" – the largest wreck dive in the world. It is a 22,000 ton luxury liner that was converted into a troop ship. It sank fully laden during the war, just a few metres off the beach. Another world famous dive site off Vanuatu is the Tongoa Wall, the edge of a live volcano.

Vanuatu offers scenic flights, fishing, watersports, cruises, golf, shopping and dining.
Fly over the volcanoes and experience the activity of a live volcano from up above. Stop for lunch on a deserted beach.v Vanuatu is known to have one of the best selections of game fishing operators in the Pacific, with a wide range of tour options available. Vanuatu has a number of small golf courses as well as an established 18 hole championship course in Port Vila. The best time to travel to Vanuatu is from late April to October. The temperature ranges from 18 degrees Celsius to 28 degrees Celsius during this time. Light clothing and a sweater for the cooler evenings is all you will need.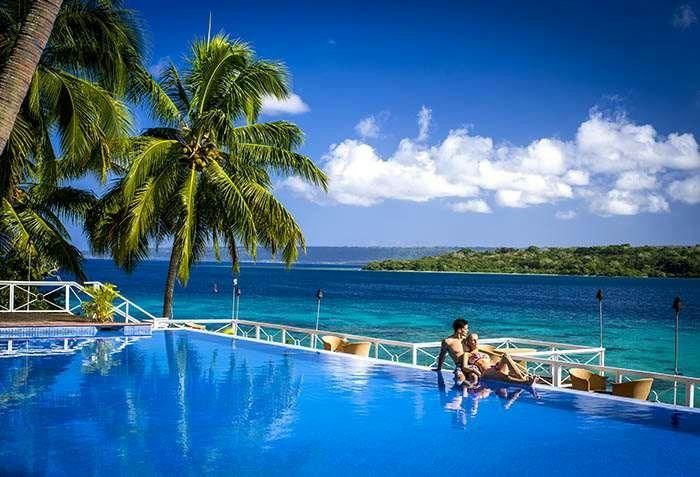 For a pamper filled vacation, Vanuatu has high end resorts that offer overwater bungalows, beachfront, and waterfront villas, deluxe room suites set in tropical gardens, fine dining restaurants, pools, spa facilities and activities and services for travellers who are seeking a luxurious and relaxing holiday without leaving their resort.  Port Vila's expertise in creating invigorating and indulgent holidays is growing.  Pamper packages cater to both men and women, offering massage therapy, facials, manicure, pedicure, body scrub, waxing, and more.  The day spas are often set amongst tropical gardens or beachfronts with an ocean view.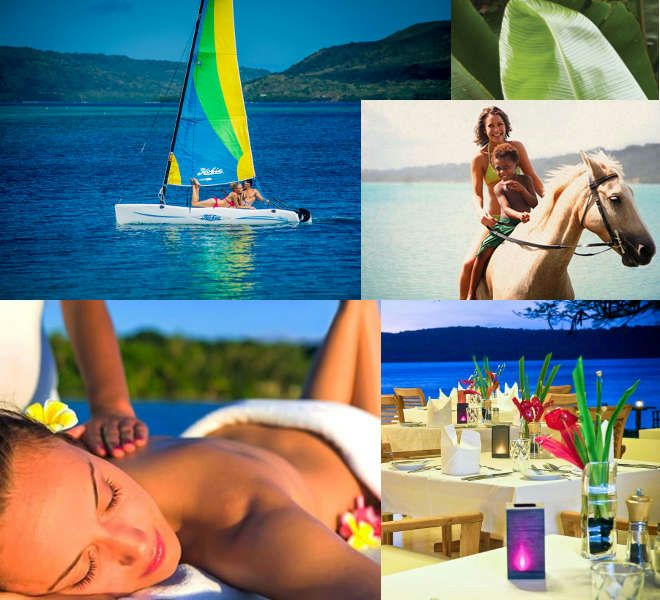 For travellers, Vanuatu offers everyone a safe and comfortable experience. The people are open and friendly, welcoming you to explore the land they love so much. There is no bargaining or hawkers to pressure you into buying their wares. It is a refreshing experience to feel welcomed by the locals and not feel pressured into buying anything. In Vanuatu the options are endless. You can have an adventure vacation or a relaxing pampered vacation. You can stay in a luxury resort in a bungalow over the water or camp on one of the smaller islands. Vanuatu really does offer something for everyone and every type of vacation experience. It is the new Eldorado of the Pacific.
We all look for a paradise. Here it is folks !
Regards, hoping to hear from you soon.
And if you have a fear of missing out relax, we have 1 bedroom bungalows released in our Pacific haven resort site for $250,000 USD with 10 year leaseback, 7.5% guaranteed rental and owner use for 4 weeks a year free, but there is only 23 so request further information ASAP.
If you would like to call me I am contactable on +61 417 007 792

Project Manager, Pacific Haven Resort Vanuatu
Please also view one of our related websites: www.allaboutvanuatu.com